There's A Secret Cinderella Latte At Starbucks That's Fit For A Princess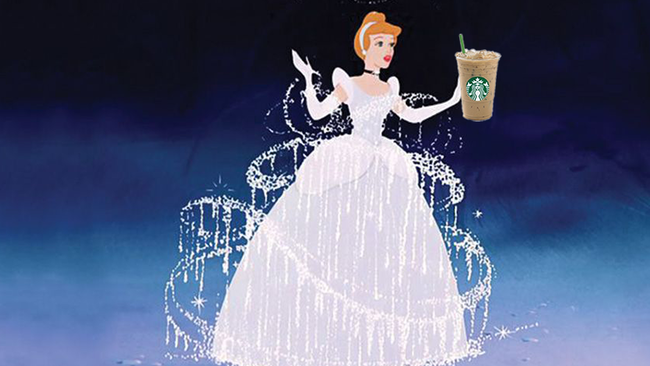 Step aside, PSL. The Cinderella Latte is here to become your favorite fall drink. You won't see the Cinderella Latte on any official Starbucks menu, but this secret item is worth the extra effort it takes to order it. Created by former Starbucks barista and current Disneyland blogger, HappiestTeesOnEarth, this beverage is a magical spin on the Pumpkin Spice Latte. Here's everything you need to know about the Cinderella Latte.
Since the Cinderella Latte is basically the PSL with a fun, flavorful twist, HappiestTeesOnEarth recommends ordering a PSL and requesting some special additions. Once you've ordered your PSL, ask your barista to sub in White Chocolate Mocha Sauce for half the pumps of Pumpkin Sauce. Assuming you're ordering a grande size drink, the recipe for the Cinderella Latte is approximately two pumps of Pumpkin Sauce and two pumps of White Chocolate Mocha Sauce.
In addition to being able to order the Cinderella Latte as a hot beverage, customers can apply this secret recipe to all the iced versions of the PSL, too. How good does an iced Cinderella Latte sound? The frappuccino version doesn't sound like a bad option, either.
While the Cinderella Latte isn't on Starbucks' official or secret menu yet, HappiestTeesOnEarth is hoping it will now that her recipe has gone crazy viral. "Still crossing my fingers Starbucks will add the Cinderella Latte to their official secret menu!!," she wrote in a recent Instagram post. "Keep tagging your friends and posting your Cinderella drinks."
Will you be taste-testing this magical fall drink?
Photo: Starbucks/Disney